Automotive
Anchor's core expertise includes small to large metal stampings and complex welded assemblies used throughout the vehicle including Class A appearance trim, structural, exterior, interior, exhaust, N.V.H., ride control, seating, steering column, brake, chassis, and safety related components.
Appliance
In the home appliance industry, designs are constantly updating to meet consumer tastes and changing market demands. As a metal stamper, our metal forming capabilities can provide everything from small volume and prototype fabrication to mass production.
Agricultural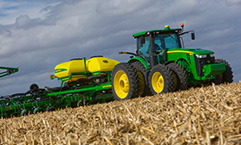 With a growing population comes a worldwide need for smarter ways to keep the food chain and all agricultural growth active and productive. Some suggest that without agriculture, there is no culture, period. Agriculture produces not only the food we eat, but the houses in which we live, the wood in our desks, the clothes designed for our various needs, and in the case of 20 percent of Americans, the job they're committed to. Anchor keeps agriculture rolling.
Commercial Vehicle
Many of our stampings and assemblies are used in the manufacture of Class 8 heavy trucks and busses. School and transit buses as well as road coaches are popular means of transport. To design and manufacture durable vehicles, Anchor supports you with expert advice and state-of-the-art products!
Consumer Product
Many times, metal stampings and welded assemblies go unnoticed in our daily lives. They are often found as common household items in the kitchen, garage, or even childrens' toys. Anchor metal stampings play an important role in assuring household products are affordable, reliable, work well and last a long time.
Defense
Anchor has been a strategic supplier to the defense industry for many years. Because of our experience and broad range of capabilities we possess both the flexibility and expertise to develop new products and bring them into production in a rapid and effective manner. The combination of innovation, process control and comprehensive quality assurance systems allows our products to meet the specifications of the military industry.
Industrial
At Anchor Manufacturing, we produce technically advanced engineered stampings and fabricated parts to many industries and across a variety of market segments. We take pride in our equipment redundancy to support sudden market requirements.